Palmers Pooches
Dog Walking, Pet Visits & House Sitting.
Enjoy peace of mind knowing your dogs will enjoy themselves in a safe environment.
Find out more
Contact Us
A Little About Me
Hi, I'm Victoria and have been running my dog walking business since the summer of 2016. I have always been an animal lover and with a passion for helping and caring for dogs as well as people. Before I took the jump into Dog Walking I was previously a domiciliary carer for 7 years. It was with the loss of my American Bulldog our German Shepherd cross changed, she had never been an only pet. This caused me to look into her behaviour and feelings. She found reassurance being around us and out having fun so that's how my business began. Making friends for Holly. Sadly she passed away in 2021.
Contact
Please do not hesitate to get in touch by phone or email if you have any questions at all about the variety of doggy services Palmers Pooches have to offer. All over night bookings are on a first come first served basis. So get your dates to me so I can check availability for you. I hope to be able to cater to your needs and dates.
Our Services
Palmers Pooches offer a variety of different services to help your every need when it comes to looking after your dog. Services as follows…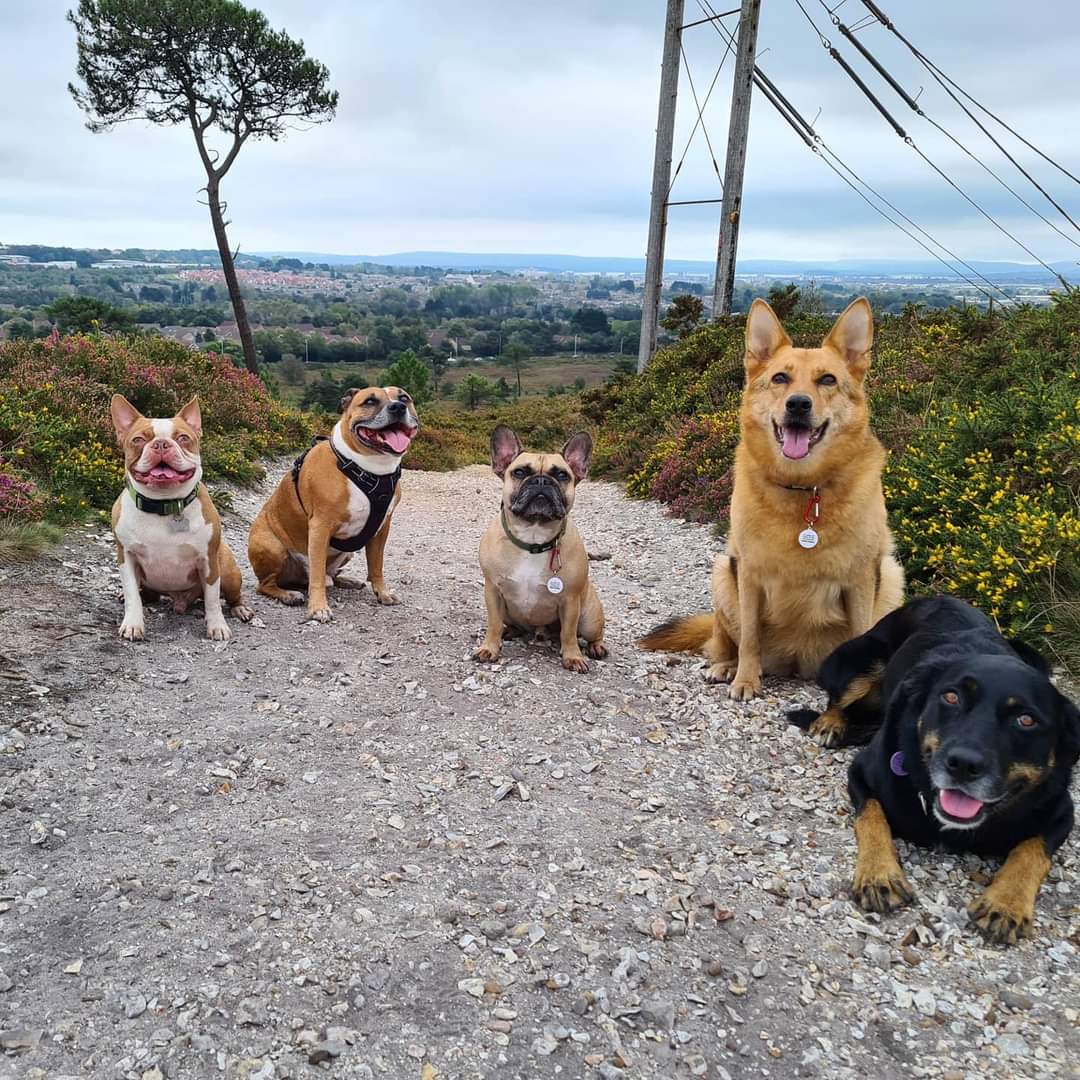 Dog Walking
Palmers Pooches collect your dog from your home and take them along with others for an hours walk at a variety of dog friendly locations. They love to play and explore together having lots of fun along the way. Once the walk is over we then drop all the dogs back home. Giving you peace of mind that they are safe, sound, exercised and waiting to see you.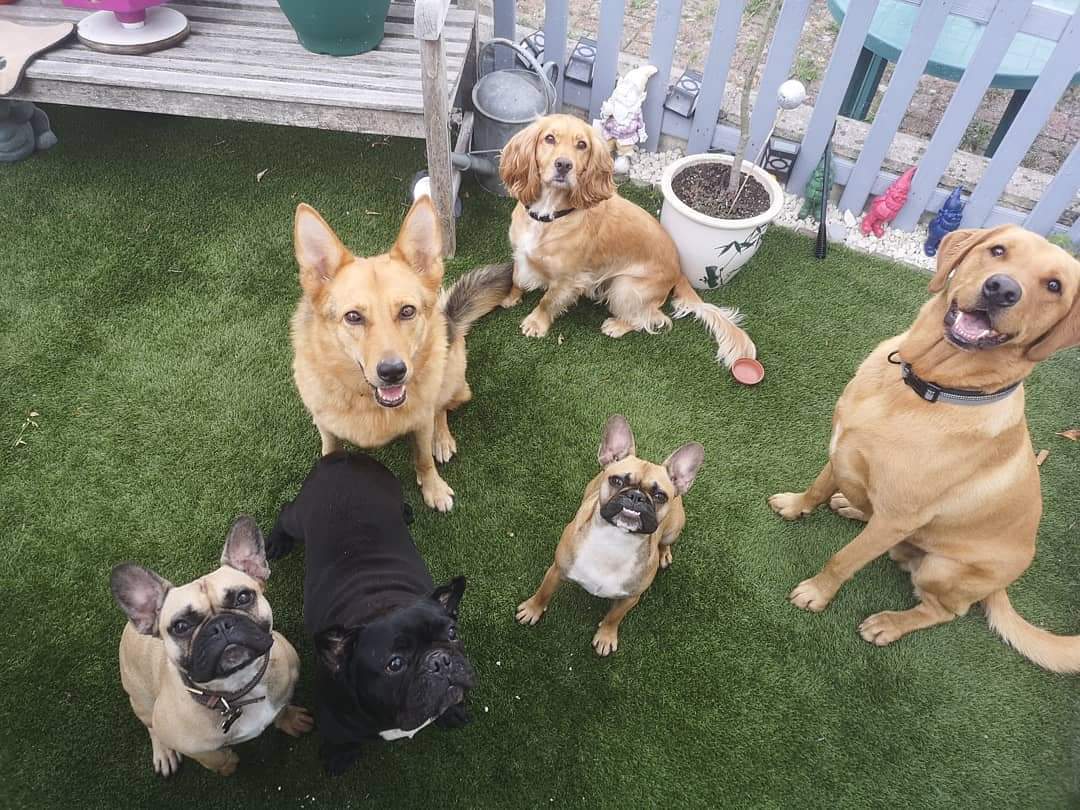 Pop Ins
Palmers Pooches offer a pop in service. Maybe your beloved dog is not able to walk far but still need to be let out to use the bathroom then we are able to 'pop in' and spend a little time with them taking care of their needs.
Pop ins last around 30 minutes. This will give them enough time to do what they need to do and are comfortable for when you return.
Why choose Palmers Pooches for your dog?
I hold dog walking insurance, offering walks, pop ins and house sits.
Group walks for up to 6 happy dogs at a time. Pop ins available for garden visits & cat feeds. I offer house sitting for solo or multiple pets, my focus is to have your pet's happy in their own home while you are away. I do have a French bulldog that likes to join me on house sits. He can also not join me if that will upset your pet's.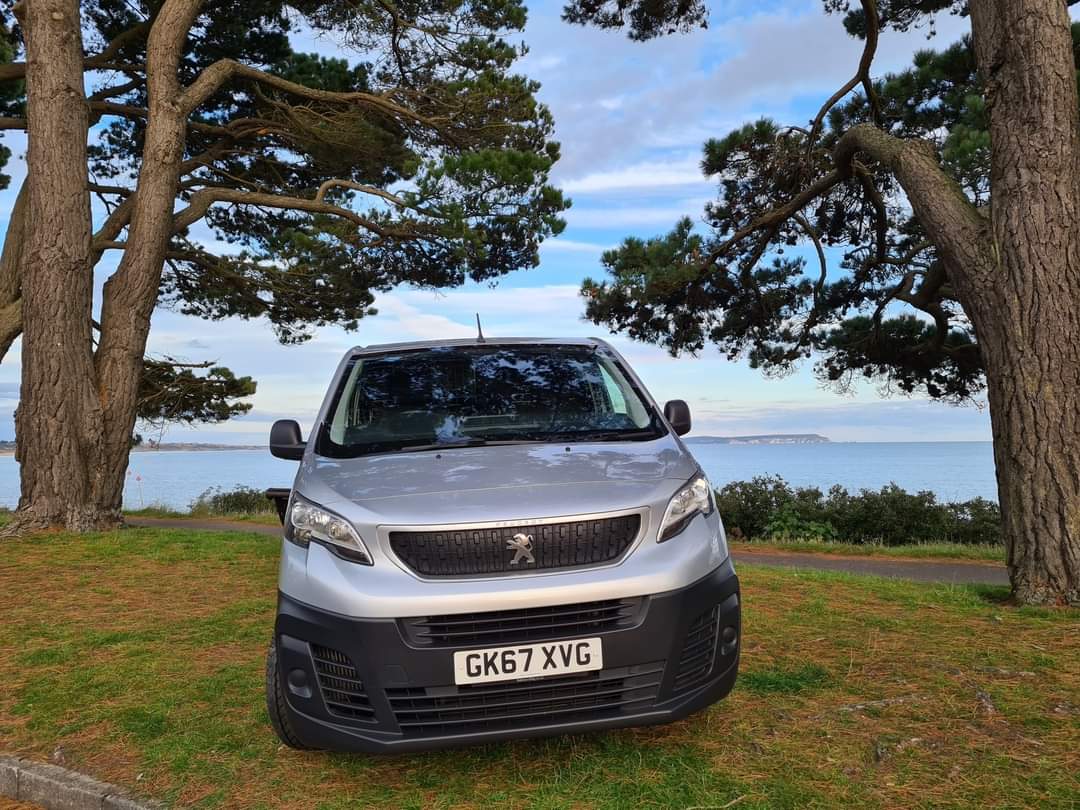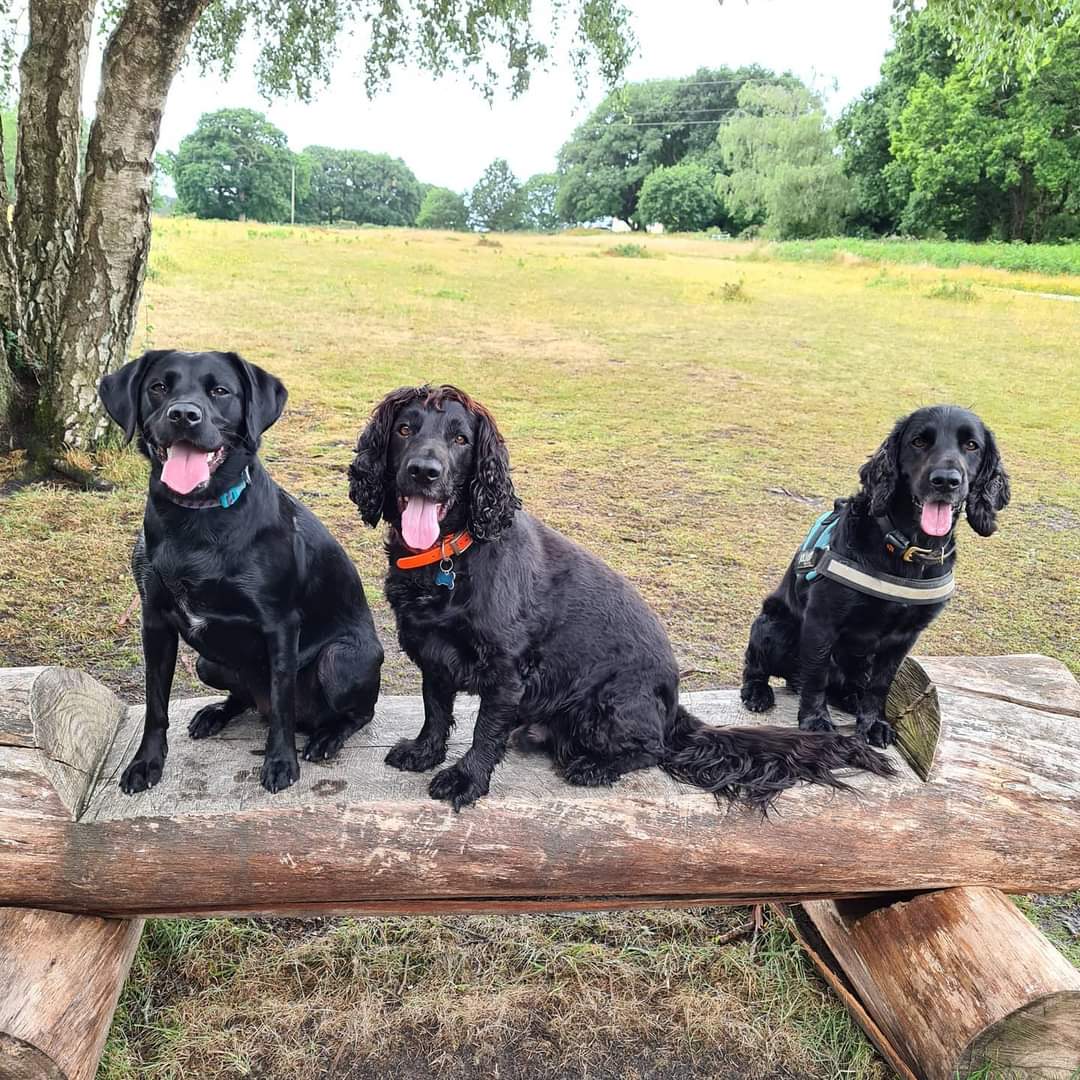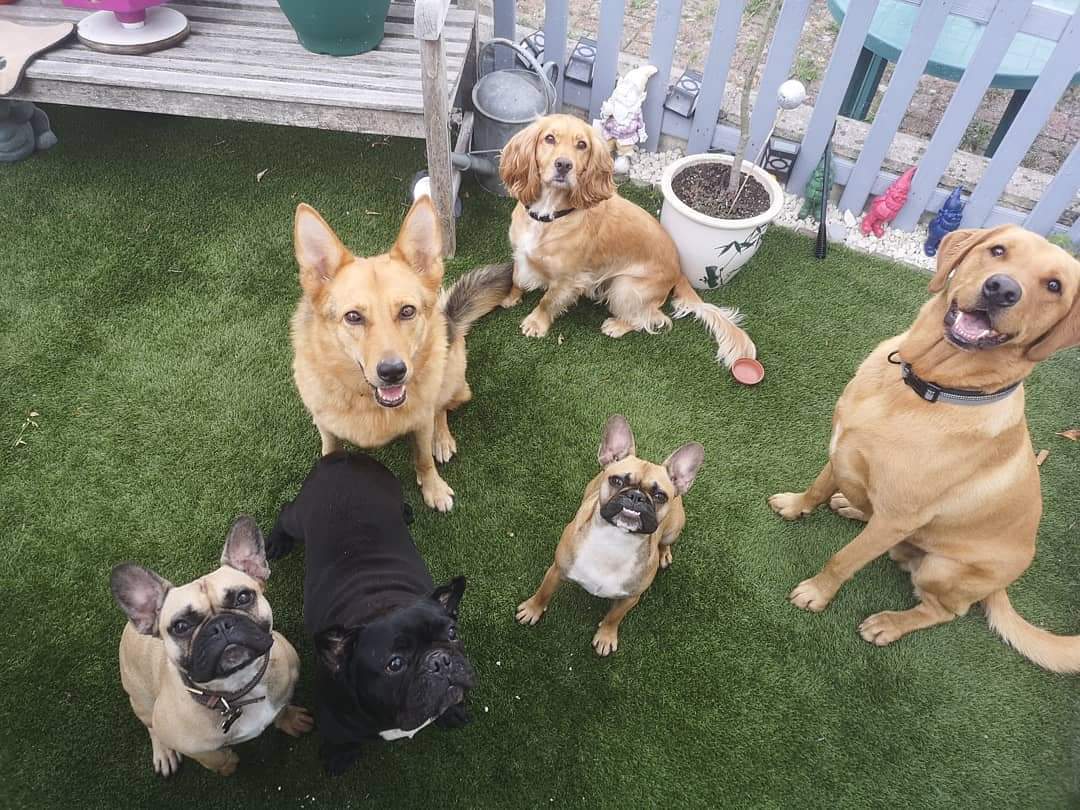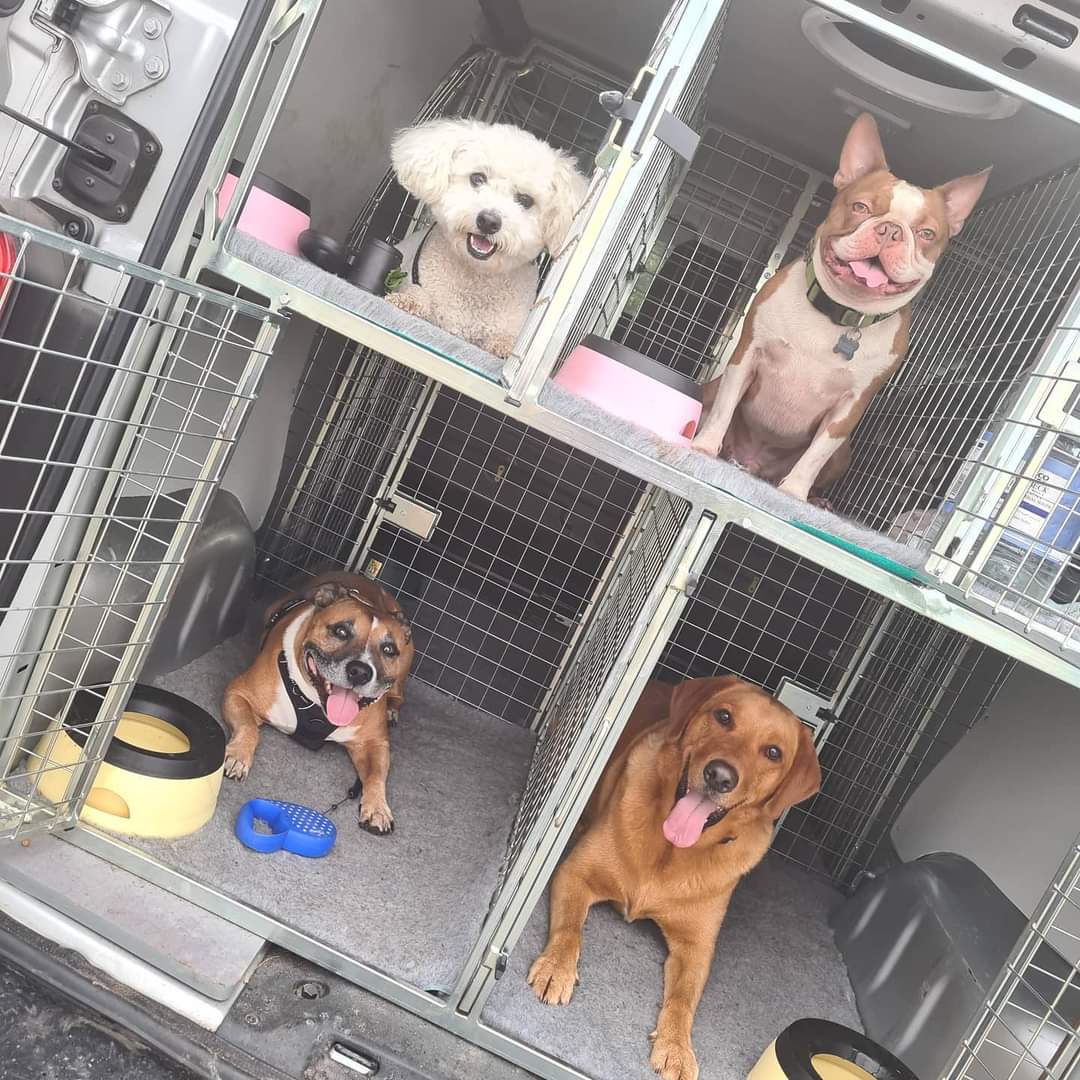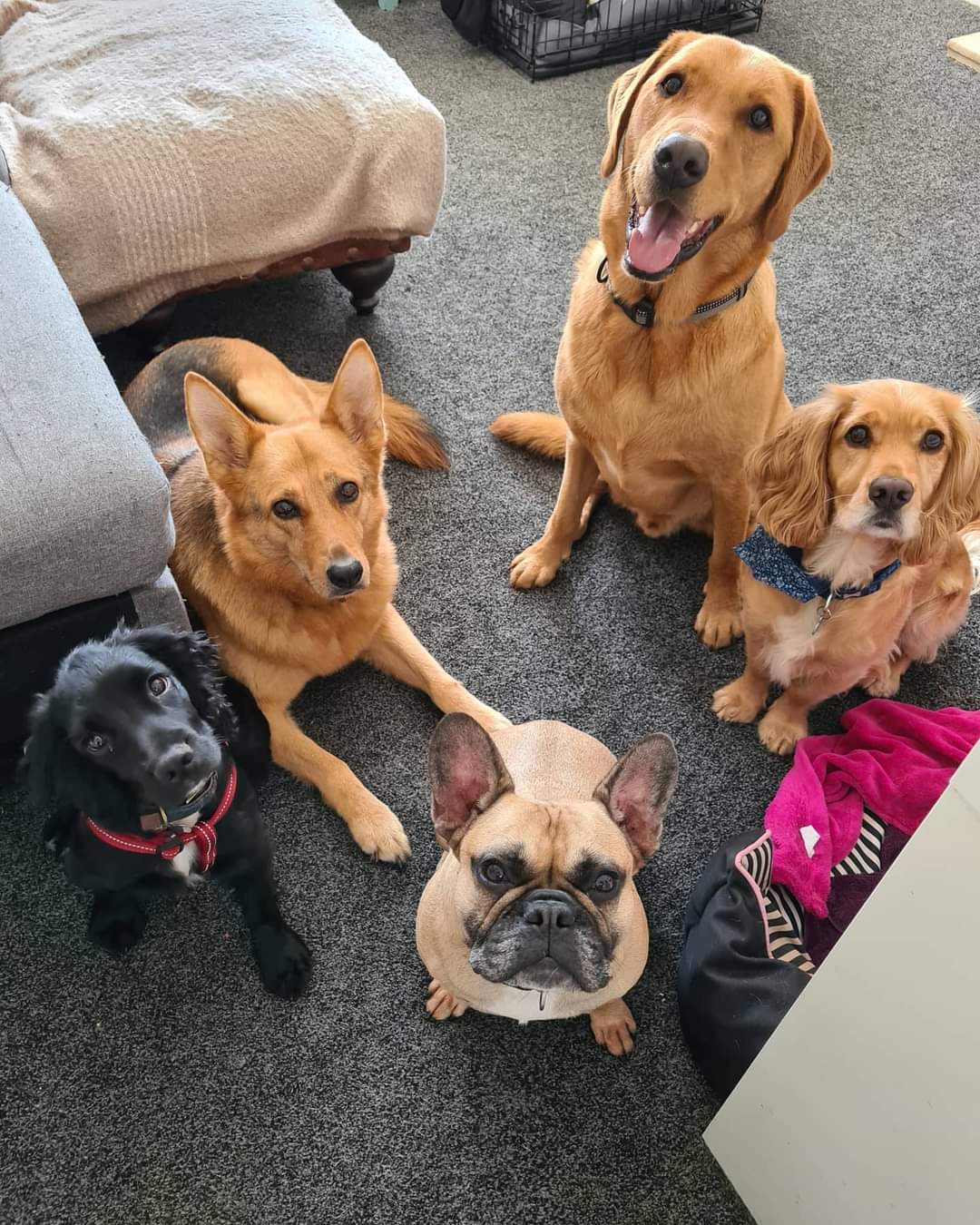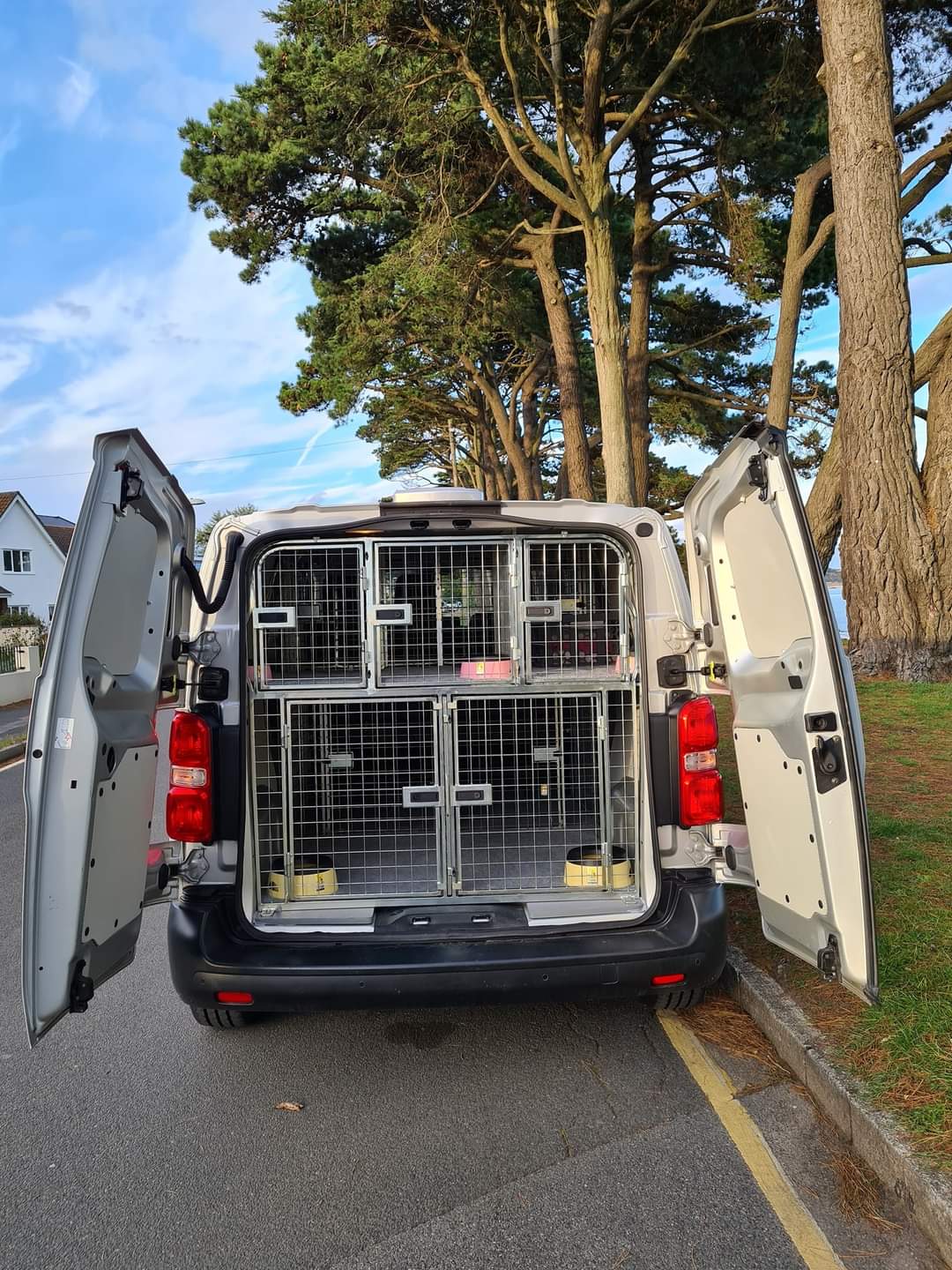 I upgraded my van in 2020
I have recently just upgraded my van for collecting all your wonderful doggies. I now have a custom fitted Peugeot Expert. With beautifully fitted cages in the back and full air-conditioning throughout the van on those lovely summer days we can all keep cool. All of the crates are also fitted out with vet bedding giving them the most relaxing ride possible. So your safe knowing your pooches are riding in style, safety and comfort. I'm just deciding on the designs for having it sign written so she stands out of the crowd. The finished photos will be posted. But for now here are some photographs of her to show you just how well and prepared I am to make sure your dogs are always safe in my van.
Highly recommended Victoria and Palmers Pooches. She has been walking Darcy on an irregular basis to fit around my work commitments, often at very short notice and has always been accommodating. Darcy has loved his walks and I love the photos she puts up afterwards on Facebook. As I see how good a time he has had.
Carolyn Sanders
Freddie had a fantastic mini break with Victoria. I look forward to booking him in again.
Tracey Caldwell
Very trustworthy and our dog has an amazing time and is treated just like family there.
Claire Bailey
Herbie has had an amazing first stay with Palmers Pooches. Victoria is such a lovely lady, friendly and very professional. From the first meet at our house Herbie fell in love with her. Lovely to get all the updates and photos too. Made us feel really relaxed knowing that he was being well looked after and having so much fun while we were away for the night. So important to find someone who truly loves dogs and their job. So glad we found Palmers Pooches we've booked in for next year.
Zoe Swithland
I can't thank or rate Victoria enough. Our dog Winnie goes to day care regularly and has just had her first boarding holiday. Winnie loved it so much so I don't think she wanted to come home. I'm so happy she is happy. Every morning its a mad dash across the path to the van and she doesn't even look back. Thank you so much for providing a second home to our Winnie.
Chloe Sherwood
Highly recommended Victoria, she is so fantastic with my dogs. She walks them regularly for me, despite them being quiet nervous dogs they enjoy every walk with her. Victoria also looked after my dogs at my home late last year, I did not worry once about anything. The dogs loved having her there. Friendly, reliable and 100% trustworthy.
Pippa Brown
Victoria is amazing!! She looked after our little fur babies as live in holiday care and they were looked after incredibly well. We had lots of updates on their welfare and loads of pictures. She took them for walks and loved them as if they were her own. She took great care of our place too and we couldn't of asked for more. What a brilliant service. Wished we had met you years ago. Thanks so much. Won't hesitate to recommend xx
Melaine Egan